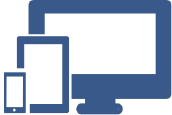 Take the FS-ICU Survey
(recommended)
Although the FS-ICU questionnaire is generally administered by an ICU staff member, you can still independently voice your opinion on your recent experience with the ICU.
If you are interested in providing feedback on your loved one's recent stay in the ICU, we encourage you to complete the FS-ICU questionnaire and submit it to your ICU.
You can fill in the questionnaire digitally and email it to the ICU's unit clerk, Nurse Manager or Medical director. Alternatively, you can print it out and mail or hand it to the ICU's unit clerk, nurse manager or medical director.
The file contains a cover letter that helps provide context to the questionnaires, explains the value of your feedback, and encourages further collection of family member feedback as a means to improve service.
Fill out the cover letter with the following order: the ICU name, your name, your family member's name (the patient), and the month and year of their ICU stay. You can then proceed to complete the questionnaire by clicking on the response boxes for each question. Instructions for printing or downloading the questionnaire can be found at the very end, highlighted in yellow.